Congratulations!
Your Order Is Almost Complete. But before you get started…
Upgrade Video Marketing Blaster To PRO…
TRIPLE YOUR TRAFFIC & EARNINGS
OUR STUDENTS Saw 300% Higher Rankings And More Traffic
After Upgrading To PRO
Watch The Following Video To Find Out Why..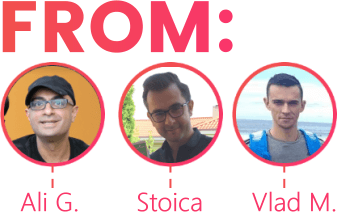 Thank you for your purchase!
You've​ ​made​ ​a​ ​very​ ​smart​ ​choice,​ ​which​ ​already​ ​puts​ ​you​ ​leaps​ ​and​ ​bounds​ ​ahead​ ​of​ ​the competition.
And​ ​make​ ​no​ ​mistake,​ ​the​ ​version​ ​of​ ​​ ​Video​ ​Marketing​ ​Blaster​ ​you​ ​just​ ​purchased​ ​is​ ​extremely powerful,​ ​will​ ​help​ ​you​ ​rank​ ​on​ ​the​ ​first​ ​page​ ​of​ ​Google​ ​and​ ​YouTube,​ ​you'll​ ​get​ ​more​ ​traffic,​ ​and make​ ​more​ leads…
However…we've​ ​got​ ​a​ ​very​ ​special​ ​upgrade​ ​for​ ​you​ ​that​ ​will​ ​take​ ​things​ ​to​ ​the​ ​next​ ​level.
After upgrading to
VMB PRO
I got my videos to
outrank my competitor websites
.
All I've did was build the 38 backlinks VMB PRO suggested me!

Rinu A. – eCom Store Owner
I own a cosmetic salon here in my home-town, and after upgrading to PRO,
I finally was able to bring my videos on the first page
! I out-rankend my competitors even though they had a professional marketing agency handling their SEO.

Roxana I. – Local Business Owner
Thanks to all the data and details from the PRO version, I was able to get one of my videos to
show up in the TRENDING section of YT
! I never imagined I would show up there! THANK YOU GUYS!

DJ Flipper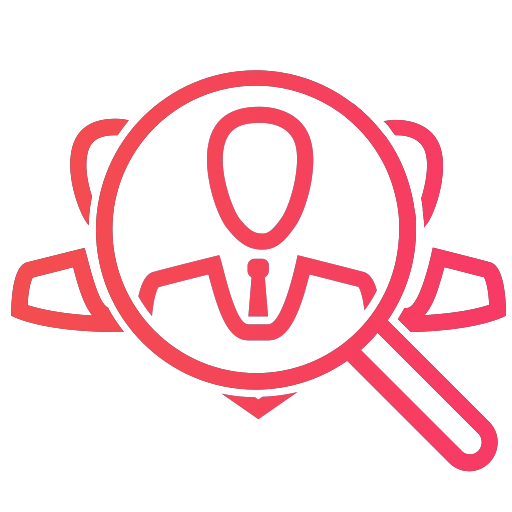 How​ ​would​ ​you​ ​like​ ​the
POWER TO SPY​ ​On​ YOUR COMPETITORS
And​ ​find​ ​out​ ​exactly​ ​HOW​ ​and​ ​WHY they're​ ​RANKING…
And​ ​how​ ​you​ ​can​ ​not​ ​only​ ​do​ ​the​ ​same,​ ​but​ ​
beat​ ​them​ ​at​ ​their​ ​own​ ​game.
Want​ ​to​ ​know​ ​all​ ​the​ ​sneaky​ ​tactics​ ​they​ ​use​ ​in​ ​order​ ​to​ ​rank​ ​on​ ​top?
Use​ ​this​ ​advantage​ ​to​ ​get​ ​faster​ ​rankings,​ ​more​ ​traffic​ ​and​ ​make​ ​more​ ​money​ ​even​ ​sooner.
If​ ​you​ ​want​ ​to​ ​take​ ​things​ ​to​ ​the​ ​next​ ​level,​ ​then​ ​Unlock​ ​PRO-Mode​ ​with​ ​your​ ​Video​ ​Marketing Blaster.

Do you want to put VMB on STEROIDS?

30
Pro Upgrades Remaining

VMB PRO Is Packed With Features Designed To
Get You Even Higher Rankings and Get More Leads
Check out some of the PRO version features:
Find out how​ ​hard​ ​it'll​ ​be​ ​to​ ​rank​ ​​any​ ​specific​ ​keyword

Find out exactly how many views, subscribers, social signals you need to outrank your competitors

Uncover​ ​the​ ​exact​ ​backlink​ ​strategies​ ​your​ ​competitor's​ ​videos​ ​are​ ​using

Get additional backlink suggestions

In-depth​ video ranking data ​analysis​

Track your videos rankings on Google and YouTube

Track your videos views over time
Do you want to put VMB on STEROIDS?
Upgrade To Video Marketing Blaster PRO
And you'll get instant access to the 2 More Modules:
How​ ​would​ ​you​ ​like​ ​to ​know​ ​in​ ​advance​ ​how​ ​difficult​
or ​​easy​ ​it's​ ​gonna​ ​be to rank for a specific keyword
With​ ​VMB​ ​PRO,​ ​you'll​ ​
know​ ​​ ​EXACTLY​ ​how​ ​hard​ ​it'll​ ​be​ ​to​ ​
rank
​ ​
​
any
​ ​
specific
​ ​
keyword
…
VMB​ ​PRO​ ​will​ ​show​ ​you​ ​how​ ​many​ ​views,​ ​signals,​ ​and​ ​backlinks​ ​you​ ​need​ ​to​ ​be​ ​able​ ​to​ ​rank.
Uncover​ ​the​ ​exact​ ​backlink​ ​strategies​ ​your​ ​competitor's​ ​videos​ ​are​ ​using​ ​to​ ​support​ ​their ranking​ ​efforts,​ ​so​ ​you​ ​can​ ​replicate​ ​what​ ​they're​ ​doing​ ​and​ ​get​ ​your​ ​own​ ​videos​ ​to​ ​rank​ ​in​ ​front of​ ​them,​ ​even​ ​faster.
You'll​ ​see​ ​EXACTLY​ ​​where​ ​they​ ​get​ all ​their​ ​backlinks,​ ​what​ ​anchor​ ​text​ ​they're​ ​using,​ ​and​ ​where you​ ​should​ ​try​ ​to​ ​build​ ​backlinks​ ​to​ ​get​ ​the​ ​same​ ​results.
This​ ​way​ ​you​ ​can​ ​outrank​ ​your​ ​competitors​ ​videos​ ​fast​ ​and​ ​get​ ​ALL​ ​the​ ​targeted​ ​traffic​ ​that​ ​you want!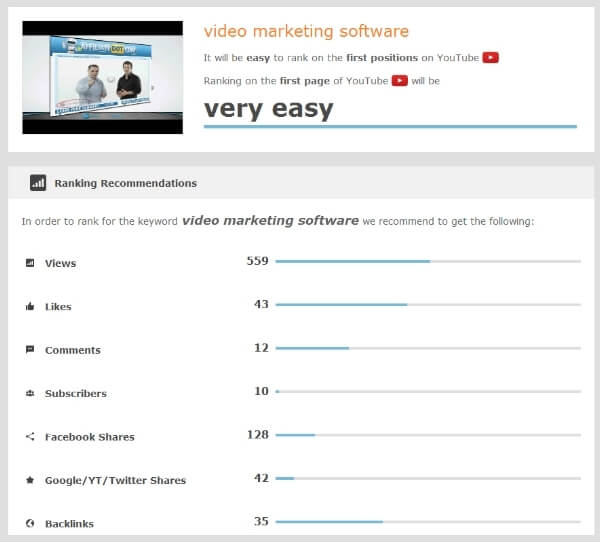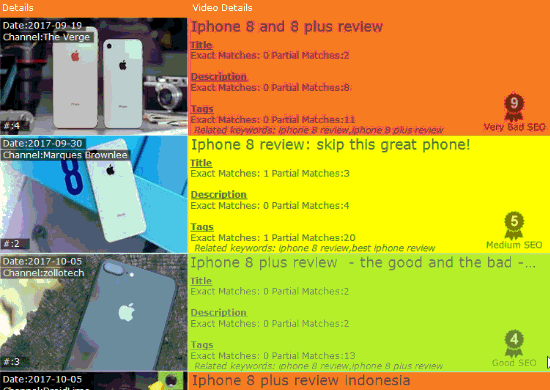 Are​ ​you​ ​a​ ​data​ ​freak?
If​ ​so,​ ​then​ ​checkout​ ​the​ ​In-depth​ ​data​ ​analysis​ ​tab…
​You'll​ ​see​ ​exactly​ ​what​ ​EACH​ ​competitor​ ​did​ ​to​ ​get​ ​their​ ​videos​ ​to​ ​rank. Every​ ​detail​ ​is​ ​laid​ ​out​ ​for​ ​you..
You'll​ ​see​ ​how​ ​many​ ​views​ ​they're​ ​getting,​ ​how​ ​many​ ​subscribers​ ​they​ ​have,​ ​how​ ​many facebook​ ​shares​ ​they've​ ​gotten,​ ​what​ ​keywords​ ​they're​ ​after… Everything​ ​that​ ​you​ ​need​ ​to​ ​know​ ​is​ ​made​ ​available​ ​to​ ​you…
It's​ ​like​ ​having​ ​your​ ​own​ ​'virtual'​ ​private​ ​investigator​ ​sleuthing​ ​around,​ ​giving​ ​you​ ​all​ ​the​ ​dirt,​ ​all the​ ​details​ ​and​ ​telling​ ​you​ ​exactly​ ​how​ ​your​ ​competitors​ ​are​ ​doing​ ​what​ ​they're​ ​doing​ ​so​ ​you​ ​can beat​ ​them​ ​at​ ​their​ ​own​ ​game.

But​ ​that's​ ​not​ ​all! In​ ​one​ ​week​ ​from​ ​now​ ​you'll​ ​have​ ​a​ ​ton​ ​of​ ​videos​ ​uploaded​
​and​ ​you'll​ ​probably​ ​want​ ​to​ ​keep tabs​ ​on​ ​their​ ​rankings,​ ​right?
Well,​ ​for​ ​that​ ​reason​ ​we've​ ​also​ ​included​:


A​ ​thing​ ​that​ ​we've​ ​learned​ ​in​ ​all​ ​our​ ​years​ ​of​ ​marketing…
You​ ​can't​ ​make​ ​money​ ​by​ ​working​ ​in​ ​the​ ​dark…
You​ ​have​ ​to​ ​know​ ​exactly​ ​​ ​what​ ​video​ ​is​ ​ranking​ ​on​ ​YouTube,​ ​how​ ​each​ ​video​ ​is​ ​ranking​ ​on Google,​ ​for​ ​what​ ​keyword,​ ​how​ ​many​ ​views​ ​is​ ​it​ ​getting.
With​ ​the  Rank​ Tracking​ ​Module​ ​you​ ​can​ ​track​ ​unlimited​ ​videos​ ​and​ ​track​ ​them​ ​for​ ​unlimited keywords.

To ​make​ ​this​ ​a​ ​total​ NO BRAINER DECISION​ ​for​ ​you
We are giving you
FREE AGENCY RIGHT!
How​ ​would​ ​you​ ​like​ ​to​ ​be​ ​able​ ​to​ ​offer​
THESE​ ​services​ ​to​ ​your​ clients,​​ as​ ​well?
That's​ ​right,​ ​if​ ​you​ ​click​ ​buy​ ​now,​ ​you​ ​get​ ​agency​ ​use,​ ​rights​ ​included.
Imagine​ ​being​ ​able​ ​to​ ​rank​ ​hundreds​ ​of​ ​videos​ ​for​ ​your​ ​clients…​ ​with​ ​only​ ​3​ ​clicks…
And​ ​being​ ​able​ ​to​ ​charge​ ​premium​ ​prices​ ​for​ ​this​ ​service. Continually,​ ​Month​ ​after​ ​month…​ ​after​ ​month!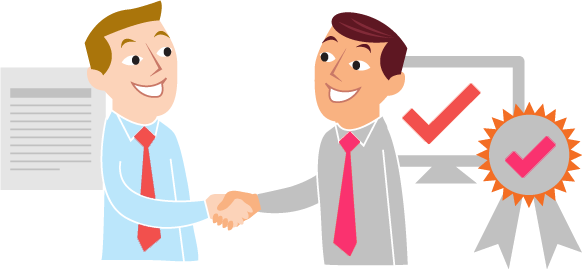 So,​ ​what's​ ​it​ ​gonna​ ​be?
Here's​ ​your​ ​ONE​ ​CHANCE​ ​to​ ​upgrade​ ​by​ ​going​ ​PRO ​fraction​ ​of​ ​what​ ​it's​ ​really​ ​worth.
Full 30 Day Money Back Guarantee
Don't forget, this upgrade is only available right now and expires if you leave the page.
Give the PRO version a try with NO risk.
If it doesn't make you money(highly unlikely)… just let us know we'll refund 100% of your purchase today, no hassle and no hard feelings.
You have ZERO risk here!
So let's recap what you are getting today when you Upgrade VMB to PRO:

This is a COMPLETE NO BRAINER DEAL
Here's​ ​your​ ​ONE​ ​CHANCE​ ​to​ ​upgrade​ ​by​ ​going​ ​PRO,​ ​at​ ​a​ ​fraction​ ​of​ ​what​ ​it's​ ​really​ ​worth.

This​ ​module​ ​is​ ​powerful,​ ​and​ ​rightly​ ​so,​ ​not​ ​everyone​ ​should​ ​be​ ​granted​ ​access. At​ ​least​ ​not​ ​at​ ​this​ ​price.
If​ ​you're​ ​serious​ ​about​ ​success​ ​and​ ​like​ ​having​ ​as​ ​much​ ​data​ ​insight​ ​as​ ​possible​ ​then​ ​this should​ ​be​ ​an​ ​easy​ ​decision​ ​to​ ​go​ ​ahead​ ​and​ ​click​ ​the​ ​buy​ ​button.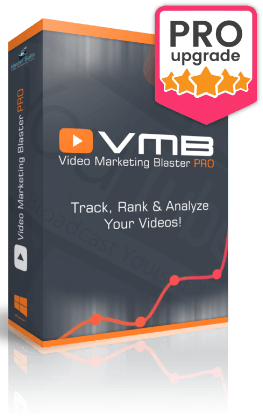 Are You Ready To Get 300% More Traffic
And Get Even More TOP RANKINGS?
The PRO upgrade takes Video Marketing Blaster to the next
level and makes it so much more powerful…
And as our valued customer, you'll lock-in a MASSIVE discount on this when you upgrade right now…

Upgrade Your License RIGHT NOW!
30
Pro Upgrades Remaining
OUR STUDENTS Saw 300% Higher Rankings And More Traffic After Upgrading To PRO
This Is An Upgrade For Video Marketing Blaster! You Need To Purchase VMB Standard Before You Can Upgrade